The first season of the Rocket Baguette Rising Stars has almost come to an end. While a few teams are still busy with playoffs, most players have finished the season. Let's check a few stats from this massive community event.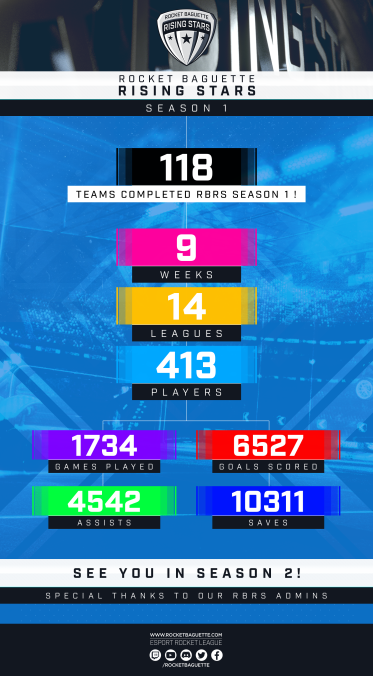 118 teams just finished regular season. Out of the 133 teams that signed themselves up, only 15 dropped the competition. Most teams therefore fullfilled their commitment of playing until the end of the calendar, which was a great surprise to us. As a consequence, one of the goals of season 2 is to increase the number of participating teams.

The 9 weeks of regular season were slightly extended. Overall, the schedules have been followed. A few teams forfeited here and there, threatening the competitive integrity of the leagues. For season 2, we will come up with stronger measures to prevent this. Among other things, forfeits will disappear. To be continued.

Overall, 1 734 games of Rocket League have been registered. For each and every one of these, our 15 admins have kept count of all the statistics available. Thanks to them and their tremendous amount of work, we were able to provide each of our 14 leagues with complete individual rankings.

Overall, 413 RBRS Contenders have scored 6 527 goals and made over 10 300 saves ! A true Rocket League feast, a passionnate competition and, most of all, a true community event that's all about Rocket League esports.
What now ?

Now's the time for playoffs. As they've been doing all regular season, both captains decide together of the day and time of their series. Sadly, the Rocket Baguette team was unable to design a proper broadcast schedule for playoffs. However, the games can be caught on Twitch either from the players' POV, or with one of the many aspiring Rocket League casters that aroused thanks to the RBRS.

As for the organisation of season 2, it has already begun. Registrations for season 2 will be open to all. If you don't want to miss your opportunity of joining the first massive Rocket League esports league, stay tuned on Rocket Baguette's social media in the second half of August.