Les open qualifiers de la nouvelle saison Rival Series viennent de se terminer hier. Il ne reste plus que 128 prétendants aux 4 tickets donnant accès à la deuxième division des RLCS. Comme chaque saison, Rocket Baguette a passé les équipes au peigne fin pour dénicher les favoris et les chances françaises !
Comme à chaque début de saison, plus d'un millier d'équipes se sont élancées dans les Open Qualifiers Rival Series dans l'espoir de se faire une place sur la scène compétitive de Rocket League. Chaque open qualifier est divisé en 16 brackets, dont seulement deux équipes ont le droit de s'extirper. Au total, il nous reste donc 128 équipes européennes (le même format se déroule en parallèle en Amérique du Nord) qui tenteront leur chance dans le Play-in dimanche prochain, la dernière phase de qualification, qui lance officiellement la saison avec le premier stream officiel sur Twitch.tv/RocketLeague.
Qui sont les favoris ?
Comme chaque saison, la concurrence est féroce et promet de donner lieu à des matchs de haut niveau pour décrocher l'un des quatre tickets pour les Rival Series. On a néanmoins recensé quelques favoris pour qui la qualification est quasiment une obligation.
Savage! fait partie de ceux-là. Bluey ayant réussi à se libérer de son contrat au PSG Esports, il a pu accomplir un de ses souhaits, qui était de faire équipe avec Deevo, lui aussi indésirable dans son ancienne équipe (Team Envy / We Dem Girlz). Pour les accompagner, le duo anglais a choisi le jeune français Alpha54, 15 ans, qui participe pour la première fois aux qualifications. Le trio a déjà fait ses preuves avec plusieurs tournois hebdomadaires Gfinity remportés. Avec deux anciens pensionnaires des RLCS, dont un champion du monde, et une jeune baguette pétrie de talent, on attend les Savage!
Ces dernières semaines, Method a impressionné. Demi-finaliste du Play, récemment tombeur de Mousesports, compLexity et du PSG Esports, Method semble avoir eu le nez fin avec le recrutement du français Kassio pour accompagner les néerlandais Rix_Ronday et Borito_B. Ces derniers peuvent également compter sur leur expérience, puisqu'ils ont déjà traversé l'épreuve du Play-in la saison passée aux côtés de Shakahron.
L'heure d'Epsilon est-elle enfin venue ? Le français D7 et le belge Faykow repartent ensemble pour un tour, cette fois avec l'expérimenté Sebadam. Déjà favoris à la qualification la saison passée, le Play-in ne s'était pas déroulé comme prévu. Malgré une intersaison discrète, le trio sera l'une des équipes à suivre.
Et aussi : The Bricks, Uniquestars, The Clappers, Los Milkers, 2/3 made WC... Ci-dessous, une sélection étendue d'une vingtaine d'équipes favorites (cliquez sur l'image pour l'agrandir).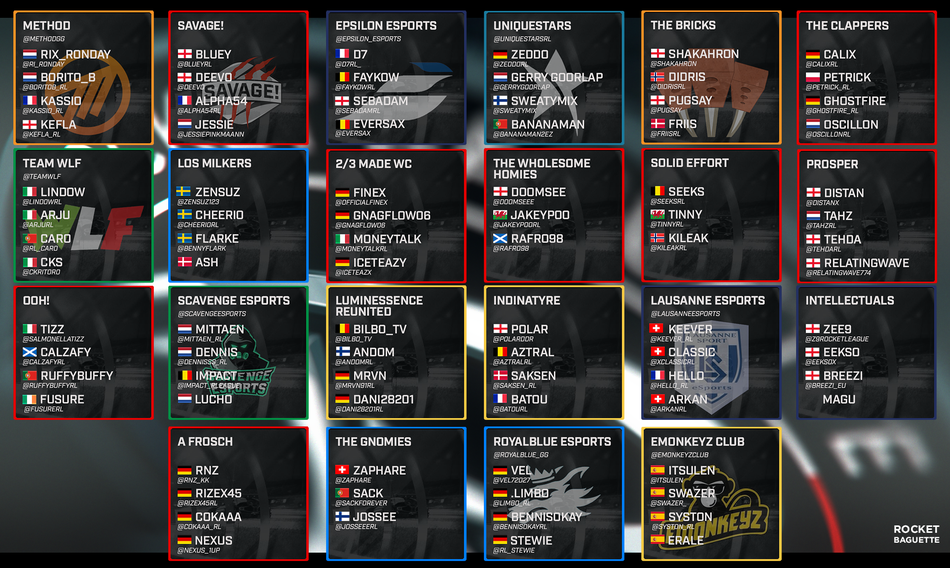 Et les français ?
En épluchant les qualifiés, nous avons eu l'agréable surprise de découvrir dans ce top 128 de nombreuses structures de la communauté, impliquées sur Rocket League depuis un petit moment !
Bien sûr, l'AS Monaco Esports et le FC Nantes Esport sont présents, mais il s'agit pour ces structures d'un minimum syndical. Le challenge consistera à aller décrocher le top 4 et même si ce ne sera pas une mince affaire, l'espoir est permis.

Également habitués aux joutes européennes, les Metaleak (avec Claws'Ones) et Venture ont répondu présents. Pour eux, la mission est accomplie et cela conforte ces structures dans leur position de leaders communautaires de la scène française de Rocket League.

Enfin, il faut absolument saluer la performance des Delta Genesis ainsi que des Netra ! Actives sur Rocket League depuis longtemps mais essentiellement axées sur le niveau amateur, ce n'est qu'une juste récompense pour ces structures que de voir des rosters éclore ainsi, tutoyant le niveau semi-pro.
Enfin, une petite mention aux Lightning, roster RBRS Rising League de la saison 1, à Yasuke ainsi qu'à Exalty, présent dans le top 128 avec Extra pour unique joueur français.
Ci-dessous, vous trouverez la liste des équipes à majorité française, mais ce n'est pas pour autant qu'il n'y a pas d'autres baguettes, bien au contraire. On souhaite bonne chance aux français qui jouent dans des rosters européens, à savoir : Gaspow, Kunsey, Iryzer, ImaginaXion, Kerianyoni, Darkness, SinnayVoub, Perséides, Rizual & l'ami EroticTofu (manager Yasuke) !
Au total, on a compté 52 français dans les 472 joueurs impliqués dans le Play-in ! Toutes nos excuses, par avance, si nous en avons oublié :)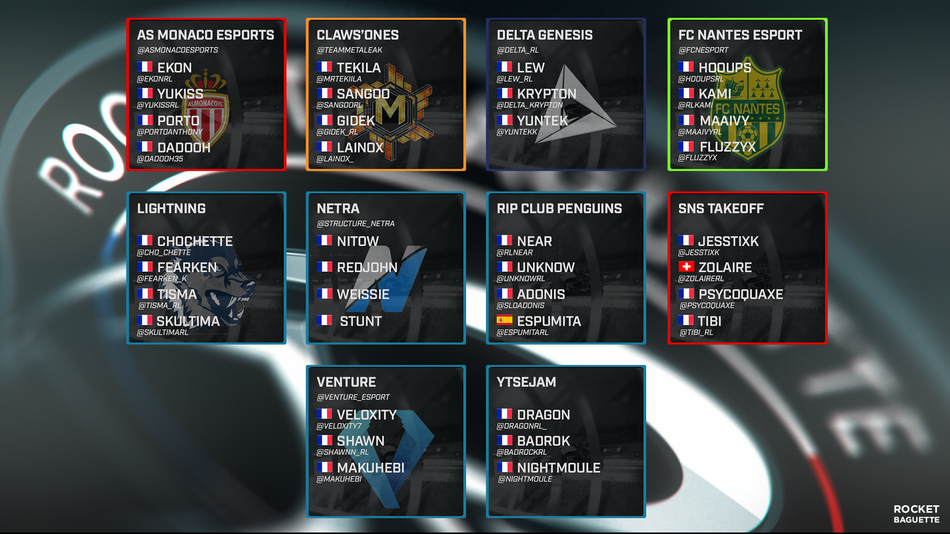 Ci-dessous, vous trouverez la liste complète des équipes et joueurs qualifiés !
Qualifier
Équipe
Joueurs
 
 
 
Qualifier 4
1Touch Aqua
FadedNova
Kaps
Jeyer
T0b1as
Qualifier 1
2/3 made WC
Finex
MoneyTalk
Gnagflow06
Iceteazy
Qualifier 4
5Frags
Lek0m
Koda
PettyDD
Sparrow
Qualifier 3
A frosch
Rnz
Rizex45
coKaaa
Nexus
Qualifier 1
A Good Community 2,0
Labyrinth
Virus
Venomous3
Meqza
Qualifier 3
AS Monaco Esports
Ekon
Yukiss
Porto
Dadooh
Qualifier 1
Atvinta Esports
Dogadka
Antony_M
Demonkin
 
Qualifier 3
Blitzers
Stake
Marc_by_8
Nachitow
Allan
Qualifier 4
Boomer!
Creamyy
Kofoed
S3B
 
Qualifier 2
Bootz 'N Catz
Vox
Paca
Kevoo
Ermageeerd
Qualifier 1
Brash Esports
KennyyMeister
xkoeckiiej
Dwen
Terra
Qualifier 2
Bruhh
Salve
JiiYee
DmentZa
Christian
Qualifier 4
Burnwell United
Wrong_Way_Woody
Fuzz
Solith
dHaaq
Qualifier 1
Cheapcheap
ImaginaXion
T-Rex93
KingFisher
Kingjs
Qualifier 3
ClangGang
Skai
Keery
Lofty
 
Qualifier 4
Crackin' open a cold one
Camoon
Myoda93
Hippityhop
 
Qualifier 4
DankzzzGG
Dsawx
Sesucxeon
Holmb
 
Qualifier 4
Daraya Esports
DeivNaps
AshDaystar
LuiisP
Ibrahimovic9
Qualifier 1
Defusekids
Pollie
Zaptimist
KaleManus
Bloxyz
Qualifier 3
Delta Genesis
Lew
Yuntek
Krypton
 
Qualifier 1
Eggplant Sweat_Drops Peach
GMS
Krazack
Dazzy
Trox
Qualifier 3
Eggplants
big
Sketch
iKylee
iZerkahh
Qualifier 4
Einmal mit profis
FabiDerKrosse
Staraptoah
imKxuby
Late-ly
Qualifier 3
EkkeKatsu
Alex837
OnlyFruit
Desti
 
Qualifier 1
Ember Nation
Seeb
Soar
Clean
StaffN
Qualifier 3
Embrace
Rizual
Psycho
MrFatality14
Nex53
Qualifier 1
eMonkeyz Club
Itsulen
Swazer
Syston
ErAle001
Qualifier 4
Endeavour
Onno_ole
Frank
Slurr
Stvn
Qualifier 2
Enfeeble
Dutymarv
Seether
Shukah
 
Qualifier 1
Epsilon Esports
D7
Faykow
Sebadam
Eversax
Qualifier 4
eQuality
CiTruZ
Leandro
Serenity
 
Qualifier 3
Esports Esports
Treefork
Finnerdt
Harpy
Pupper
Qualifier 3
Exalty Purple
Extra
xHunter Sky
Dayum03
Zephinux
Qualifier 2
eXtatus
Versite
Thedave125
Noilyy
 
Qualifier 3
FC Nantes Esport
HoOups
Kami
Maivy
Fluzzyx
Qualifier 1
FekyX Alpha
Samuel
Zombie
Kleinako
Hadrianus
Qualifier 2
FinalArt
Sakkaku
Syntax
Gaspow
 
Qualifier 1
Fly By
Wahlross
Kangaroo Salesman
Zefrin
 
Qualifier 4
Frnzyy
NCJ
ConnifeX
Magicho
 
Qualifier 2
FTW.Pro
NeMeBeLe
Pepe
Unkim
Arafar
Qualifier 1
Game Fist
bramdeswaggerd
Frutz
Dreeki
Milcocu8
Qualifier 2
Genoit
dNa
Rahiden
BanjoCarry
 
Qualifier 4
Hard Rocket Hallelujah
Pastor1
Foggy
Veikkeli
 
Qualifier 3
Hyperion Esports
Imagine
Nxko
Siizloo
OliverMen
Qualifier 2
IDK Dude
Jaded
Godly
Mio
 
Qualifier 4
ImPerfect
IeCram
Hoody
Jarno_kasbergen
 
Qualifier 1
Indinatyre
Polar
Aztral
Saksen
Batou
Qualifier 3
Infamous Bush Pandas
JordyUnknown
Mishmish
MattM
 
Qualifier 4
InfinityyGG
oh_Heckk
Zlmatt
McLovin
Lukedanuke
Qualifier 4
Instinct3
Sharkerino
Leytrix
Nicger
 
Qualifier 1
Intellectuals
Zee9
Eekso
Breezi
Magu
Qualifier 3
Jahuuu
Di

 

Sharp
P1onerr
Totothdt
Qualifier 4
Just chillin' here
Proxy
Awx
Lotus
 
Qualifier 2
K.F.C.
Hakeem
Dhruby
Redeyes
Mayday410
Qualifier 2
Karrowing
Mirrorwing
Sharrow
iKash
Extreme
Qualifier 4
KeepoPride
Meisterclaus xmasbunny
EssJayy
Kerianyoni
Peroxidd
Qualifier 3
Last Minute
Tense
Choken
Jocelyn
Tostiapparat
Qualifier 2
Lausanne Esports
Keever
Hello
Classic'
Arkan
Qualifier 4
Lightning
Chochette
Skultima
Fearken
Tisma
Qualifier 3
Lnine
Dead-Monster
Naru
Ordinal
Dyzer
Qualifier 1
Los Milkers
Zensuz
Cheerio
Flarke
Ash
Qualifier 4
Luftens Hefte
ImGibMaestro
Dreamz
Cazt
xAyamii
Qualifier 2
Luminessence Reunited
Bilbo_TV
Andom
mrvn
dani28201
Qualifier 2
mCon Esports
Th0
Mikeboy
Nyptox
 
Qualifier 1
Method
Rix_Ronday
Borito_B
Kassio
Kefla
Qualifier 1
MissTheOpenNet
AntiSuuu
SirVile
Slime
Dukesse
Qualifier 4
MTLK Claws'Ones
Tekila
Sangoo
Gidek
Lainox
Qualifier 4
Netra
Nitow
Weissie
StunT
Redjohn
Qualifier 1
Nixus
Dannyboi
Zinquay
Syan
Albatros
Qualifier 3
No Horizon
Kael
Boom
Toni2510ar
Jairo
Qualifier 4
No Warning Esports
Danii
Fair-D
Aeoluswmd
 
Qualifier 3
Nordic Trio
TK
Doggo
Always
Imotti
Qualifier 3
OCK
Opeay
Camzyh
Koen
 
Qualifier 1
Omegalul
Wolfsonthemoon
Kontrol
Mister uBe
 
Qualifier 3
OmeletteRL1
Saphiix
Artyrus
Slyex
Perseides
Qualifier 4
Ooh!
Tizz
Calzafy
RuffyBuffy
Fusure
Qualifier 3
Pineapple Pizza
MK
PauliePaulNL
Zapphire
VeriXon
Qualifier 4
Power Unlimited
Reemo2K
KreD
Piatrix
Smtx
Qualifier 2
Prosper
Distan
Tahz
Tehda
RelatingWave
Qualifier 3
Quality Meme
BJayB
Tw1lek
Fuz3e
Moxify
Qualifier 3
RipClubPenguins
NeaR
Unknow
Adonis
Espumita
Qualifier 1
RoyalBlue Esports
Vel
.limbo
Bennisokay
Stewie
Qualifier 4
Sakura Blues
Sniperkid
Lily
Bella
Dark
Qualifier 3
Savage!
Bluey
Deevo
Alpha54
Jessie
Qualifier 1
Scavenge Esports
Mittaen
Dennis
ImpacT
Lucho
Qualifier 3
Shaolin Monkeys
Negsy
Richmond
ProFessorvF
 
Qualifier 1
Sinista KK Doom
Chrizz
Unlikely
Lfc_
 
Qualifier 4
Skruvat Esports
Warlo
Jarmo
D4rw1n
Ruffsarn
Qualifier 2
Smoked Meat
Bob Skywalker
Pixon
Meaty
FrinteerSpot
Qualifier 3
Sns Takeoff
Jesstixk
Zolaire
Tibi
Psycoquaxe
Qualifier 2
Solid Eff0rt
Seeks
Tinny
KilEak
 
Qualifier 2
Solstice Esports
Syn
Zeno
maj10
Krizzz
Qualifier 1
Something
Supraa
Soup
Covari
Santralos
Qualifier 2
Sørby Nitro
Kienix
Rexo
Nojgaarden
Eboo
Qualifier 2
Spanish Ballchasers
Adriandro
Hate
Wolf
Damian
Qualifier 4
Spanish Dream Team
Cr9zz
Madridista155
Black
Grillo
Qualifier 1
TBF
Shotts
Sting
Dream
Strime
Qualifier 3
Team Eagle Legend
Magiks
Leiartxer
Sr Kappa
ItsLiriikz
Qualifier 3
Team Novex
SkixelDroid
Blau
Zwocky
Eizy
Qualifier 1
Team Qbyte
BecauseImMatt
Therazzane
Krevolution
 
Qualifier 1
Team Ruthless
Zamberg
Lxgacy
Dan1el
 
Qualifier 2
Team Vertex
Was-Mann
Doomayn
Kunsey
Bxsti
Qualifier 1
Team WLF
Lindow
Arju
Caro
Ckritoro
Qualifier 1
The Bricks
Shakahron
Didris
Friis
Pugsay
Qualifier 2
The Clappers
Calix
Petrick
Ghostfire
Oscillon
Qualifier 4
The Farmers
Sandez
Matsgrey
Chrille
 
Qualifier 1
The Gnomies
Zaphare
Sack
Jossee
 
Qualifier 2
The Lemon Men
Lem0naz
Babbenator
Hardstuck
Swanborg
Qualifier 2
The Wholesome Homies
Doomsee
Jakeypoo
Rafro98
 
Qualifier 2
Three and a half men
Kar0ttenpower
Foxman
Screwdriver
VorTex
Qualifier 4
Tilted Trifecta
Seebrify
Rawvyy
Darkness
 
Qualifier 2
Toilepot
Qidow
VayreZ
Flwles
Zixter
Qualifier 2
Trihard 7
Nalmon
Deviix
Chargingdingle
 
Qualifier 1
Uniquestars
Zeddo
Gerry Goorlap
SweatY
BananaMan
Qualifier 4
Unknown Strategy
Xeon
SinnayVoub
LeoniD
Joejon
Qualifier 3
Unrivalled
Zidrox
Rivalo Nero
RennyRentier
ZneedTV
Qualifier 3
Upsla
Clavfx
Chippy
Cynical
Frozen
Qualifier 2
Venture
Veloxity
Shawn
Makuhebi
 
Qualifier 2
Vibration Torin
GiaYes
Adzer
Riolu98
RxzoR
Qualifier 2
Vultures
Iryzer
6lue
Evilmojito
 
Qualifier 2
Wasted Potential
Bratunb
Tiniiik
Krisiboy27
Seba0410
Qualifier 4
Wild 4 Sports
Bach0
Foss1l
Risk0
 
Qualifier 3
Wizards
Estrupa
xXManuuXx
ByJesux
Rubik
Qualifier 1
x6tence
Zoor
Khaelan
ByMateos
ClayX
Qualifier 3
Yasuke ESC
Faber
Mx22
RedoX
EroticTofu
Qualifier 2
Yeahletsgo
Palyso
Riemert
Jensie
 
Qualifier 2
YtseJam
Dragon
Badrok
Nightmoule
 
Qualifier 4
Zelith
Aenia
JeroenZZ
Lucakerman