The 4 Open Qualifiers are now over! Top 32 teams that will earn some points during the Renegade Cup are now known. Here is the composition of the 8 pools of Round One after which 16 teams will go on to Round Two.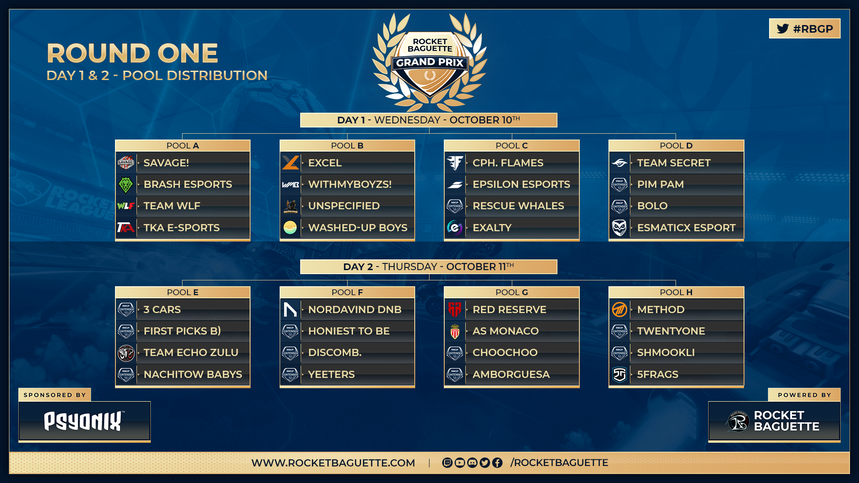 After an intense 5 days that saw the 4 Open Qualifiers go down, the Rocket Baguette Grand Prix is ready to move on to the first round where the 32 survivors will try to find their way into the following stage of the tournament.
Rival Series teams were expected in the RBGP and they did show up. Method, Copenhagen Flames and Savage! each won one open qualifier. Bubble teams have the opportunity to shake the established order and several of them showed-up. First Picks B) managed to take the remaining qualifier, while teams like Epsilon Esports and WithMyBoyzs! have found their way into the grand finals of the qualifiers.
Now, what?
Now, the Rocket Baguette Grand Prix is ready to take on its first round, composed of 8 pools of 4 teams each that will all battle in a double-elimination bracket. The top 2 teams of each pool will move on to Round Two, while teams finishing 3rd and 4th of their pool will play in a placement bracket next week in order to establish the most precise ranking of the 32 final RBGP teams.
All the matches will be BO5 and the players are expected to show-up and check-in on smash.gg at 8 pm CEST. RBGP Round One will be broadcasted live in English on twitch.tv/RewindRL and French on twitch.tv/RocketBaguette, next Wednesday & Thursday.
Wednesday - 8 pm CEST

Pool A, semi-finals:
Savage! vs TKA E-Sports
BRASH Esports vs Team WLF

Pool B, semi-finals:
exceL vs Washed-Up Boys
WithMyBoyzs! vs Unspecified

Pool C, semi-finals:
Copenhagen Flames vs Exalty
Epsilon eSports vs Rescue Whales

Pool D, semi-finals:
Team Secret vs Esmaticx Esport
Pim Pam Trucu Trucu vs BOLO
Thursday - 8 pm CEST

Pool E, semi-finals:
3 cars vs Nachitow Babys
First Picks B) vs Team Echo Zulu

Pool F, semi-finals:
Nordavind DNB vs YEETERS
Honiest to be vs Discombobulated

Pool G, semi-finals:
Red Reserve vs Amborguesa
AS Monaco Esports vs Choochoo

Pool H, semi-finals:
Method vs 5FRAGS
TwentyOne vs Shmookli