Three weeks have passed since the first EU Monthly of the Renegade Cup has begun. 8 teams are still in the run to win the Rocket Baguette Grand Prix. It's time for Playoffs Week! Quarter Finals on Wednesday, Semi and Grand Finals on Thursday!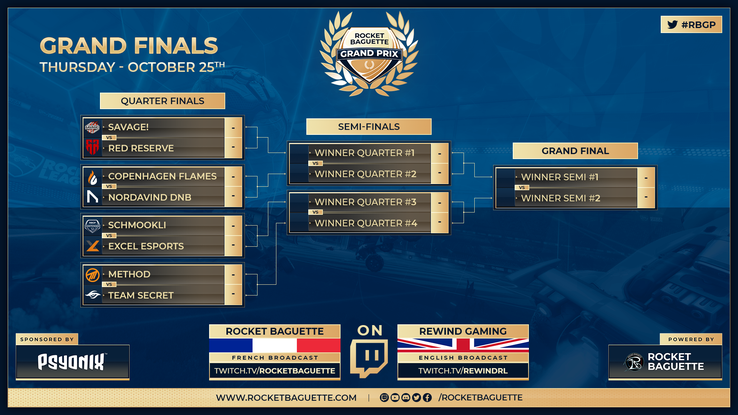 16 teams competed in the Round Two of the RBGP, half of them made it to the single-elimination BO7 playoffs !
The Quarter Finals will be played this Wednesday, starting 8 pm CEST, broadcasted in English with Rewind Gaming and in French with Rocket Baguette. Here is the matches schedule:
8:00 pm CEST - Copenhagen Flames vs Nordavind DNB
9:00 pm CEST - Schmookli vs exceL Esports
10:00 pm CEST - Savage! vs Red Reserve
11:00 pm CEST - Method vs Team Secret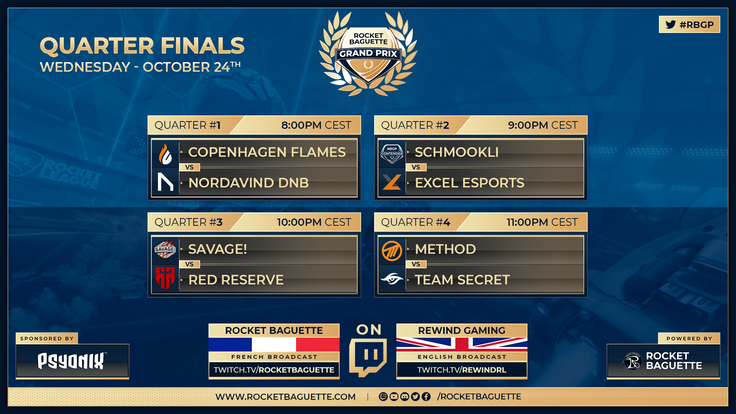 All 7 complete Rival Series teams that signed-up in the Rocket Baguete Grand Prix are still in the run. In the middle of them, the Norwegian team of Schmookli has also been displaying an incredible performance, finishing undeafeated in both Rounds One and Two, beating Method and Red Reserve along the way. Will they cause more trouble this week, starting with former RLCS-team of exceL Esports?
As it happens, the schedule of these Quarter Finals will offer two tasteful match-ups, between top 2 teams of Rival Series S3, Savage! and Reserve, and the two runner-ups, Method and Team Secret, finishing 3rd and 4th!
And to kick-off the evening, a now classic Copenhagen Flames vs Nordavind DNB will set the tone!
Don't miss out on these series, Wednesday, starting at 8 pm CEST! They will set the frame for the conclusion of the RBGP, with the semi-finals and Grand Finals on Thursday.