Yesterday, the first European Renegade Cup Monthly tournament concluded, with Red Reserve winning the Grand Prix! Ronaky, Tadpole and Speed earn $1500 as well as their spot for the Renegade Cup finals next February!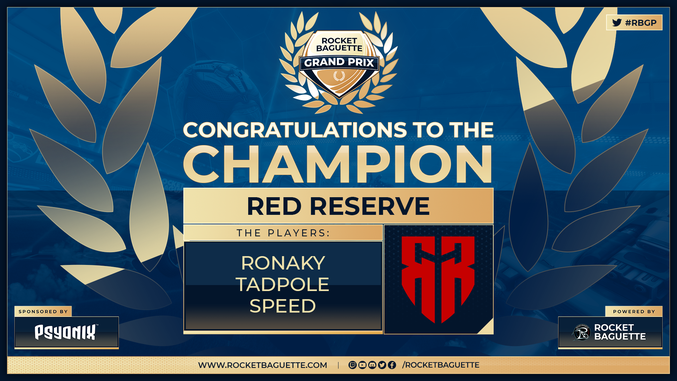 After a fierce one-month race, Red Reserve crossed the finish line first, winning the Rocket Baguette Grand Prix. After a tense seven-game series in the Grand Finals against Team Secret, Ronaky, Tadpole and Speed became the first Renegade Cup winners in Europe. In addition to the $1500 prize pool, they also earned their spot for the Renegade Cup Finals next February, a Psyonix-hosted tournament gathering the 12 best teams of the circuit, for a $20 000 prize pool.
After winning Rocket Baguette's The Play last summer under their old Triple Trouble name, Red Reserve does it again!
If you missed the Grand Finals, here is an opportunity to catch-up:
The Renegade Cup aims at offering a playground for future Rocket League talents and an opportunity to face the experienced Rival Series teams. For this first edition, RLRS players didn't leave much room for bubble teams. Only Schmookli, a full Norwegian roster, managed to make their way into the playoffs, along with 7 RLRS teams. They lost to exceL in quarter finals, but Nielskoek and his team were unable to attend the semi-finals, due to unfortunate circumstances. The notable results of the playoffs happened in quarter finals, with two 4-1 wins for Red Reserve and Secret against Savage! and Method.
While Red Reserve won't be allowed to participate in the following Renegade Cup monthlies, the other teams will continue their grind towards points! Here is the final Top 32 Grand Prix ranking.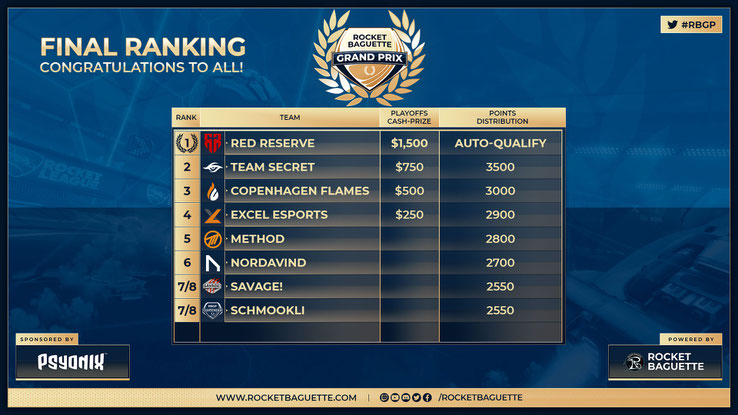 It is now time for teams to head towards the November EU Renegade Cup Monthly, hosted by Rocketeers!