Rocket Baguette announced the Rising Stars last week with the mission to bring an exciting format to Rocket League esports. European players will be able to compete in their country in order to become the champion of their region, then fight for the European crown against top teams from other regions of the continent!
The Rising Stars circuit are an extension of the Rocket Baguette Rising Stars, a community league launched in early 2018 by Rocket Baguette. After three successful seasons, we decided it was time to expand the model to other European countries in order to create a unified model of leagues that would bring the best regional teams (excluding RLCS players) to a continental competition. Just like Rocket League reminds of football, the Rising Stars are inspired by UEFA and the Champions' League.

While France, Belgium and Switzerland already know what it's all about, the rest of Europe is about to discover the Rising Stars. Rocket Baguette will not be operating the whole circuit by itself. We already know that the Spanish League will be ran by Golden Dust Cup - by the way, the registrations for the Golden Dust Rising Stars are already open! In Italy, Rocket Colosseum will be hosting the league, and in Portugal, Gamers Media will be your host, with more information to come soon. The last partner, that will cover United Kingdom and Ireland, will come public soon.

It leaves us with 6 remaining countries among those who have been announced last week: they will all be hosted by Rocket Baguette, under the RBRS brand.
RBRS Germany will be ran in partnership with Team Firewall - Austrian players will now be included
RBRS Netherlands,
RBRS Nordics, that will include Denmark, Finland, Sweden & Norway.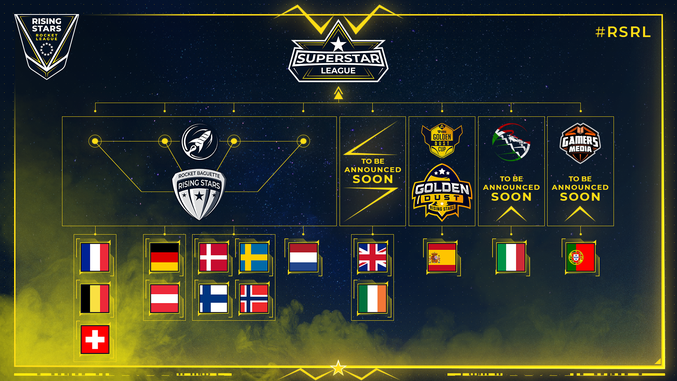 These three leagues will be ran in smaller versions than their French equivalent (that included 200+ teams in 26 divisions last season) because of a limited manpower. It means that among the teams that register, only the best (based on 3v3 ingame MMR) will be accepted in the league. The 16 (or 32, depending on the MMR gap) best teams in each of these regions will play in the Star League, the highest level of RBRS, comprised of 2 (or 4) divisions of 8 teams. Top 3 of each division will go to playoffs, and the best teams in the playoffs will qualify for the Superstar League.

Teams beyond the top 16 (or 32) seeding will play in the Rising League, the 2nd level of RBRS. It means that they won't have a shot at winning their regional RBRS and won't be able to qualify for the Superstar League. For 90% of the teams that participate, RBRS are a competition with nothing at stake but the fun of playing in a unique competitive frame, allowing you to face opponents of your skill level in a league over 7 weeks.
---
"Thanks to all the admins, there's nothing much to be improved"
"Looking forward to next season, thanks for your investment and work"
"Another great season, congrats! Hoping Season 4 will be as spectacular"
Anonymous RBRS S3 Contenders feedbacks
---
Here is the schedule for RBRS France, Germany, Netherlans and Nordics. Please note that teams play one series per week at the day and time agreed by both captains.

August 5th: registrations open
August 27th: registrations close
September 2nd: beginning of week 1
October 14th: beginning of week 7
October 28th: Playoffs week

While the Golden Dust Rising Stars will offer an identical model, the Italian, Portuguese and UK leagues might deliver different versions or visions of the Rising Stars - check them out when they release their info. In order to compete in one of those leagues, a team must play with at least two players from the league's countries. One foreigner is allowed. People from countries that are not included in this first Rising Stars season, sorry for letting you down. You can still play as a third in one of the existing leagues. In the future, we'll do our best to offer a Rising Stars league to every region in Europe. Also, please note that a player can't be registered in two different leagues at the same time and that RLCS starters in 2019 are not allowed (RLCS subs and RLRS starters are allowed).

One other thing is for sure: the best teams of the eight Rising Stars leagues will qualify for the Superstar League. The number of qualified teams per league will be announced soon. 24 teams in total will play in the Superstar League for a minimum cash prize of 1000€ (sponsors, where you at?). It will consist in 4 pools of 6 teams, playing a 5-week round robin. Top 3 of each pool will qualify for the playoffs.

Here is the schedule for the Superstar League season. Playdays will be forced for broadcasts purposes.

November 4th: Week 1
December 2nd: Week 5
December  9th: Playoffs Week
That's it for now. Rendez-vous on August 5th. In the meantime, feel free to shoot us your question on Twitter - @RisingStarsRL.
By Boyan