Rocket Baguette just launched the first season of the Rising Stars, its new European Rocket League circuit composed of regional championships and European cups. Almost 2000 players distributed in 524 teams have joined the 8 regional leagues operated by Rocket Baguette and its local partners.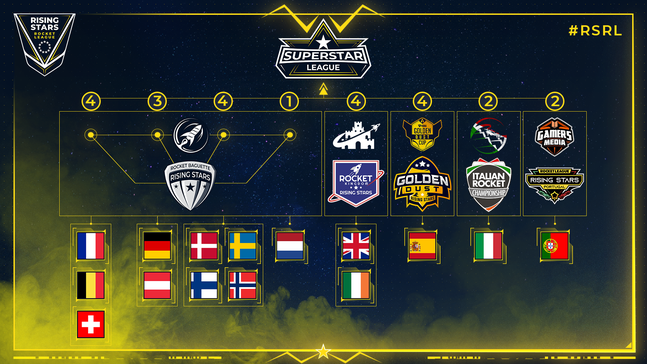 After 3 seasons, the French Rocket League Championship is no longer alone! It took months of preparation for Rocket Baguette to duplicate its RBRS (Rocket Baguette Rising Stars) model to other territories. Season after season, the French league has grown, from 117 registered teams in Season 1 to 253 in Season 4.

In terms of organisation and administration, the format is now considered mature enough to be deployed in other countries. Therefore, Rocket Baguette partnered with the other regional orgs, starting with the Spanish Golden Dust Cup. With their GDRS, Golden Dust beautifully adapted the RBRS format to their community, with a success beyond expectations: 94 teams joined the Spanish championship while their previous competitions never exceeded 64 registrations.
La saison 4 des #RBRS démarre officiellement !

Nos 25 admins sont prêts à accueillir les 253 équipes réparties en 32 divisions, et les près de 900 BO5 qui doivent être jouées en 7 semaines !

Découvrez le plus grand championnat Rocket League du monde: https://t.co/bkA4ung4EQ pic.twitter.com/2rxkboznwe

— Rocket Baguette (@RocketBaguette) September 1, 2019
In Great Britain, the newcomers Rocket Kingdom have been selected. For the first season and after a short preparation period, 62 teams have joined the Rocket Kingdom Rising Stars. In Germany and Austria, Rocket Baguette is operating RBRS Germany, in partnership with Team Firewall, that will be in charge of the league next season. While in Italy and Portugal, the leagues are operated respectively by Rocket Colosseum and Gamers Media, the Nordics (Denmark, Finland, Norway & Sweden) and Dutch versions of RBRS are operated by Rocket Baguette for now, as we are still looking for partners for organisation and broadcasting.

The season has started on September 2nd: for 9 weeks, the 524 teams will face in their regional championship, giving them the opportunity to qualify for one of the three European Cups that will follow right after, for 6 additional weeks:
The Superstar League, considered as the UEFA Champions' League equivalent in the Rising Stars circuit, will be the main target for top teams.
The Europa Cup, for teams that failed to qualify for the Superstar League.
The Rising Cup, for the best division 2 teams in Europe.
The registrations for most #RSRL leagues are now closed.

Many thanks to all the players that joined the circuit.

This is gonna be a massive Rocket League Esports party! pic.twitter.com/c7FYF6Q0Pw

— Rising Stars RL (@RisingStarsRL) August 28, 2019
"We're proud of conducting this project independantly, with the help of other community orgs specialised in Rocket League esports. The Rising Stars are adressed to a large player basis, including very good players that still remain out of the official RLCS circuit. Considering the success of the launch, we are extremely optimistic regarding the future role of the Rising Stars in the European Rocket League Esports landscape", declared Boyan Kaftandjiev, Rocket Baguette co-founder.

While season 1 has just begun, a few evolutions have already been decided for next season, like the implementation of qualifiers for Star League (division 1 of the regional leagues) access and a promotion/relegation system between the first and second divisions of the regional leagues.