Yesterday, we announced the new prize pool for this Rising Stars season, thanks to the Nicecactus Grassroots Esports Fund. Let's dive into it a bit more and explain what you can expect from this second season, and a reminder of what the core idea of the Rising Stars Circuit really is.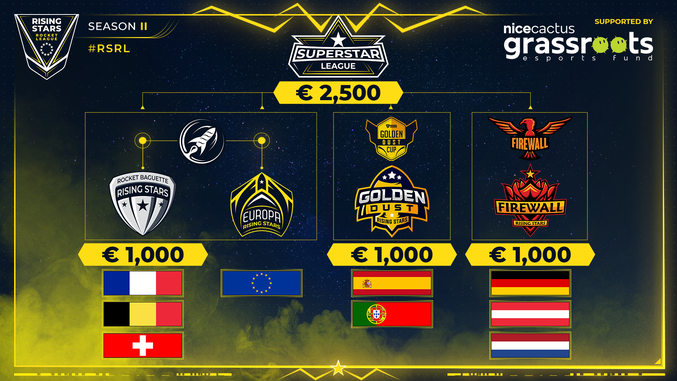 The Rising Stars are coming back! After a pretty convincing first season, last fall, that eventually saw the Baguette Squad victory in the Superstar League, and never seen operations in Rocket League, like broadcasts in six languages simultaneously, let us share what we've got in store for you!

What doesn't change is the season structure: there will be Regional Leagues of which the best teams will qualify for the Superstar League, a continental cup with a sweet €2500 prize pool (that's €1500 more than last season). 12 teams will face in two divisions of six. The top 3 teams of each pool will qualify for the Superstar League playoffs.
Supported by

As the number of teams in Superstar League has been reduced, so is the number of Regional Leagues in the Rising Stars circuit. Some season one partners didn't deliver the regional leagues we expected, some didn't share the same vision. Therefore, players can now choose between 4 Regional Leagues.

The Rocket Baguette Rising Stars (RBRS) Season V for French, Belgian & Swiss players
The original Rising Stars Regional League, created by Rocket Baguette, doesn't change much, except for the Star League qualifiers. While MMR seeding is still a thing for Tier 2 & lower divisions (we had 250 teams to seed last season and didn't think of any better way to do so), access to the Tier 1 league will have to be earned in one of the 4 Open Qualifiers. A €1000 prize pool will be offered the best Star League teams.
The Golden Dust Rising Stars (GDRS) Season II for Spanish & Portuguese players
The Spanish Golden Dust Cup have orchestrated a wonderful first season, with 94 registered teams. Just like RBRS V, Star League access is now gained through Open Qualifiers, and a €1000 prize pool will be dispatched between the best teams. Portuguese players are now welcome in the GDRS championsip!
The FireWall Rising Stars (FWRS) Season I, for German, Austrian & Dutch players
After an initial season in which FireWall was supporting Rocket Baguette in the operations of the Rocket Baguette Rising Stars Germany, it is now time for FireWall to be fully in charge of running the show. The same rules apply in FWRS, with Open Qualifiers & a €1000 prize pool for its Star League.
In each of those leagues, teams must play with two players from the countries in which the league is ran. Last season, there was no other choice than meet those requirements in order to play in the Rising Stars circuit. We didn't feel this was right and we therefore create a new league where no country restrictions would apply.
The Europa Rising Stars (EURS), for everyone else
While the league will be ran the same way as every other one, there are two differences:
no country restrictions, except the following: if your team is eligible to play in RBRS, GDRS or FWRS, you can't play in EURS. Every other country combination is accepted!
there will be no prize pool in this league. It is to be considered as a way for anyone to qualify to the Superstar League, but we don't want to encourage teams to join this league.
---
How to Play in the Rising Stars
If you want to play at the best possible level of the circuit, you have to go through the Open Qualifiers in one of the 4 Regional Leagues. Each of the Regional League's pages (links right above) have some Smash.gg qualifiers forms where you can sign-up in one or several Open Qualifiers. Those will be held:

Thursday, February 6th
Monday, February 10th
Tuesday, February 11th
Thursday, February 13th

If you fail to qualify for your Regional Star League, or if you don't feel you're ready for the Tier 1 League, you can still play in a League Play format with teams of your skill level.  Each of Regional League's pages have another form in which you enter your team's name, logo & classic player information - nicknames, email, discord & game accounts. Your team will then be seeding according to MMR and you will be able to enjoy some competitive Rocket League with us!
---
The core of the Rising Stars
Is there life beyond the Superstar League and the Regional Star Leagues? Yes, there is. This circuit is NOT for subtop players ONLY. Yes, we do have a quite significant prize pool this season. But what we also have for you, Rocket League players around the Diamond and Champion ranks, is a regulated competitive frame for you to practice in a League Play format against teams of your skill level.
Last season, 500+ teams have attended the circuit and only a small portion of those attended the Tier 1 Leagues. We have an army of admins ready to guide you through the season, a strong platform that will display all your league's stats - top scorers, assists, goalkeepers and MVPs... This is the best opportunity for you to grab a team and compete for several weeks, trying to reach your league's playoffs. This is the best chance to practice and improve, in order to maybe reach, one day, your regional Star League and qualify among the best in the Superstar League. Just take the shot!